Coaches Education Program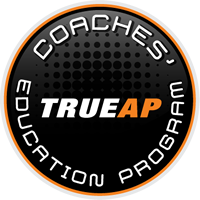 Helping every Coach develop the knowledge and confidence to teach their athletes to improve sports skill and performance.
Already a CEP member?
Basketball Coaches' Clinics & Online Membership
CEP Program Provides
Easy to Use Content
Detailed Drill Manuals
Practical Applications for Any Age Level!
Online Membership and Video Library
Regular Updates on Program Content
On-Going Support from the Experts at True AP!
Testing & Evaluation
Let TrueAP help you evaluate your players and track progress! TrueAP testing is EFFICIENT and provides valuable information to your coaching staff.
The basic "TrueAP Rating" is composed of 4 tests to measure overall athleticism, but testing events can be sport-specific and evaluate the following components:
Acceleration
Change of Direction
Total Body Power
Core Strength
Flexibility
Anaerobic Endurance
NEW! Basketball Skills & Performance Rating! An objective rating to evaluate athletic ability as well as basic basketball skills such as dribbling, passing, and shooting!
Training Manuals
TrueAP's performance training manuals provide pictures, descriptions, and diagrams to help coaches and athletes implement a wide variety of drills and exercises to improve overall athleticism!
Performance topics include:
Proper Warm-Up & Flexibility
Linear Speed
Agility
First Step/ Quickness Speed Ladder Drills
DVDs
Each DVD includes detailed descriptions  and demonstrations  from Rob Rose and the expert staff at TrueAP. Current DVDs include:
Explosive Speed, Reaction, and Jump Training for Volleyball
100 Conditioning Drills for Lacrosse
100 Conditioning Drills for Soccer
Testing & Evaluation for Lacrosse
Testing & Evaluation for Football
Clinics & Consulting
TRAINING SERVICES/CLINICS
TrueAP provides a wealth of knowledge in the performance training/ fitness market. Training sessions can be lecture-based or hands-on to ensure that information is understood and can be applied immediately at your club/ facility!
Training Topics Include:
Performance Training Basics (Sport-Specific or General)
Program Design (Speed/ Strength Training)
Injury Prevention and MANY MORE!
BUSINESS DEVELOPMENT/STRATEGY
If you are looking to start or grow your fitness or performance training business, TrueAP can assist by providing PROVEN strategies and methods that will help you reach your goals! Learn how to create a business model that will provide consistent revenue in any market!
Focus Areas Include:
Business Plan Basics
Market Analysis
Facility Design & Layout
Staffing and Programming
Business Operations
SALES/MARKETING TRAINING
TrueAP has been able to consistently build and generate income by establishing a successful business model. In addition, TrueAP has a unique and innovative approach to the marketing and sales process that we are excited to share with your business!
Training Topics Include:
Marketing Research & Lead Generation
Marketing Through Multiple Mediums
The Complete "Sales Cycle"
The Art of Building Relationships to Improve Sales