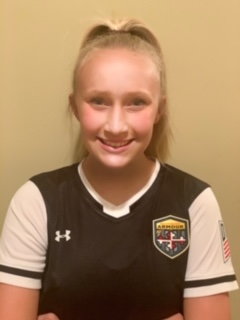 Defender
U15 Baltimore Armour Developmental Academy
---
What motivated you to start training at TrueAP?
I wanted to become a stronger and more physical player on the soccer field. I also had a history or rolling my ankles, so I wanted to take a more active approach in reducing soccer related injuries.
What results have you seen since?
I have become a more physical and aggressive player. I don't get pushed around or muscled off the ball.
What specific aspect of our program do you like most?
I participate in private training with Josh Daniels and I really like the layout of the session. We spend 30 minutes on speed, agility, quickness followed by 30 minutes of strength training.
Why would you recommend other athletes train with TrueAP?
Josh really individualizes your workouts. He finds your weaknesses and works to improve them. He makes working out fun and has helped educate me on proper sleep, nutrition, and hydration habits.
Lauren stated playing for the Developmental Academy at the age of 11. She was a starting defender on the U14 team. Now at age 14, she's a starting defender on the U15 team. Lauren has aspirations to play collegiate soccer.